A Shredder for Any Space
When you choose a Momentum Shredder, you're choosing quality. These shredders offer high-P-4 and P-5 Micro-Cut security, quiet operation and large pull-out bins for easy clean up, making them perfect for both offices and personal spaces
Commercial Grade Performance
We deliver powerful shredding for any workspace. Our high-performance motor runs ultra-quietly, making it perfect for shared spaces.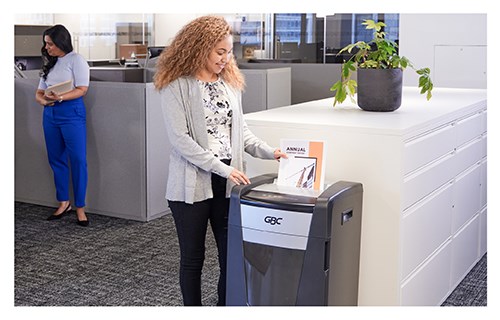 Active Anti-Jam Technology
Our Anti-Jam Technology senses sheet count and feeding speed to help prevent the most common types of jams.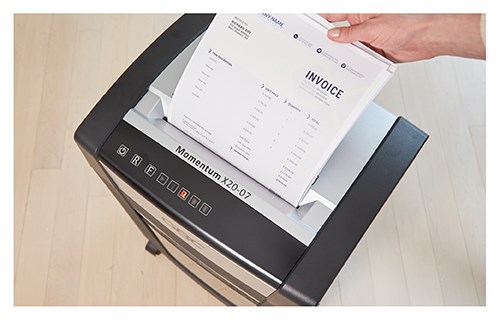 Extended Run Times
Get more done without stopping. Momentum Shredders either have extended run times or run continuously until the waste bin is full.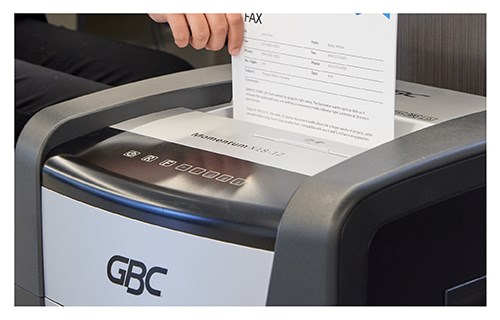 Office Shredder Series
From small businesses to large corporations, GBC Momentum Shredders are a great choice for any workspace. Whether you want to place your shredder under a desk or in a large, shared workroom, we have a Momentum shredder to fit your needs.
| | | | | | | |
| --- | --- | --- | --- | --- | --- | --- |
|   |   | | |   |   |   |
|   | X20-07 | X18-12 | M12-12 | X22-23 | X26-32 | M20-32 |
| Item # | WSM177001 | WSM177002 | WSM177003 | WSM177004 | WSM177005 | WSM177006 |
| Manual Sheet Capacity | 20 | 18 | 12 | 22 | 26 | 20 |
| Bin Capacity | 7 gallon | 12 gallon | 12 gallon | 23 gallon | 32 gallon | 32 gallon |
| Run Time | 240 minutes | Continuous* | Continuous* | Continuous* | Continuous* | Continuous* |
| Security Level | P-4 (Micro-Cut) | P-4 (Micro-Cut) | P-5 (Micro-Cut) | P-4 (Micro-Cut) | P-4 (Micro-Cut) | P-5 (Micro-Cut) |
| Dimensions | 16"x 12.6"x 23.0" | 18.9"x 17.5"x 26.6"  | 18.9"x 17.5"x 26.6"  | 18.0"x 20.2"x 34.5"  | 20.1"x 21.8"x 40.5"  | 20.1"x 21.8"x 40.5" |
| Speed | 5.91 fpm | 5.91 fpm | 5.91 fpm | 5.91 fpm | 5.91 fpm | 5.91 fpm |
| Disclaimer |   | *Limited only by bin capacity | *Limited only by bin capacity | *Limited only by bin capacity | *Limited only by bin capacity | *Limited only by bin capacity |

Momentum X20-07
Active Anti-Jam
P-4 Micro-Cut
20 Sheet Capacity
7 Gallon Pull-Out Bin

Momentum X18-12
Active Anti-Jam
P-4 Micro-Cut
18 Sheet Capacity
12 Gallon Pull-Out Bin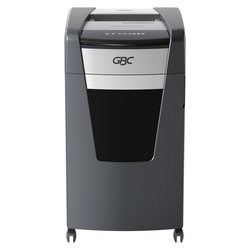 Momentum X22-23
Active Anti-Jam
P-4 Micro-Cut
22 Sheet Capacity
23 Gallon Pull-Out Bin

Momentum X26-32
Active Anti-Jam
P-4 Micro-Cut
26 Sheet Capacity
32 Gallon Pull-Out Bin
Shredding Articles
The Difference Between Shredder Cut Styles

Apr 5, 2018

Non-Stop Jam Free Technology

Apr 5, 2018

Shredding Oil Delivery System