When you need to impress a client or boss, your corporate materials – displays, booklets, etc. – need to look their absolute best. Binding is  a quick and cost-efficient way to make an immediate and lasting impression, but there are many styles available. Rest assured, we know binding inside and out. Read to learn about binding styles, their benefits, and best use cases.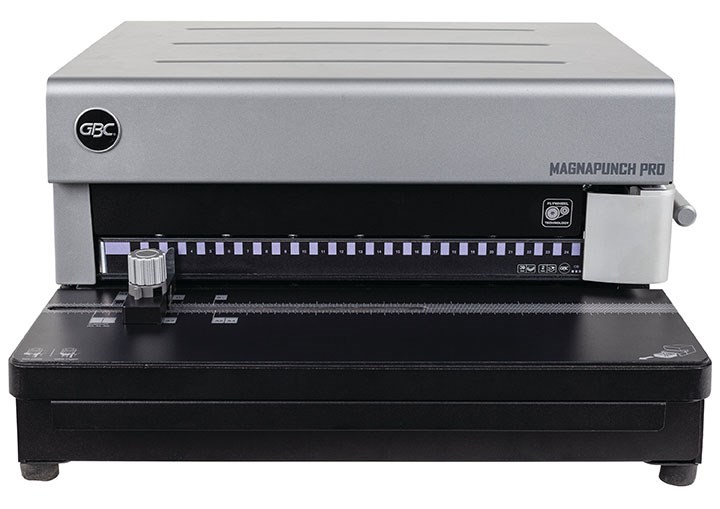 Style 1: Comb Binding
Often called "plastic binding" or "spiral comb binding," comb binding is the most recognizable choice in binding. First, documents are punched. Then they're bound together using a spine with tabs that roll into the spine itself. In schools and large businesses alike, comb binders are great for when numerous booklets need to be created for a class, meeting or training session.
Comb Binding Benefits
Pages can be added or removed with relative ease
Bind up to 425 sheets of paper
Cost effective option
Readily available – the most popular binding system
Combs are re-usable
Common Uses
Reference guides
instructional materials
workbooks
kids craft books
school handouts
Style 2: Coil Binding
Coil binding provides a quick continuous loop that stretches the length of the document. Unlike other forms of binding, this one allows 360-degree page turning. Add class and color with >GBC's ColorCoil —a quick and efficient way to take your document to the next level.
Coil Binding Benefits
Professional finish
Pages lie flat with 360-degree page turning
Permanent bind
Spine keeps shape with bounce and flexibility
Binds up to 265 pages
Common Uses
Documents that need constant reference

including handbooks, notebooks and more.
Style 3: ProClick Binding
GBC's unique, patented ProClick Binding works much like comb binding, with one big exception. Rather than individual tabs that curl into the spine, the bind 'clicks' together, securing papers in place. Beyond its upscale look, ProClick lets you add and remove pages in a snap.
ProClick Binding Benefits
Open and close easily to add or remove documents
Lie flat for easy photocopying
360-degree page turning
Professional, upscale look
Zips and unzips for quick editing
Made from recyclable polypropylene
Binds up to 100 pages
Common Uses
Documents and presentations that you'll need to change over time.
Style 4: Wire Bindings
Wire binding take a C-shaped binding spine and closes around your punched papers. This style is similar in concept to the wire bound notebook or notepads that are essential on college campuses. Wires are measured by pitch 3:1 (3 holes per inch on the paper edge) and 2:1 (2 holes per inch on the paper edge).
Wire Binding Benefits
Full 360-degree movement, allowing work to lie flat for photocopying
Professional finish to documents
Element join is hidden from view
Strong and flexible
Can be removed if required
Maximum capacity of 110 sheets for 3:1 wires
Maximum capacity of 250 sheets for 2:1 wires
Common Uses
Metal finish gives the impression of additional security over plastic combs.
Perfect binding solution for legal documents and professional documents that require an element of security. 
Style 5: VeloBind
VeloBind – also known as "strip binding" – is the professional way to bind large volumes of documents up to 750 sheets. VeloBind strips secure documents fast and are cut and welded to the element on the underside of your book, creating a tamper-proof seal. Beyond its professional look, VeloBind provides the highest security of all binding styles, preventing the removal or insertion of pages. 
VeloBind
/Strip Binding Benefits
Large volume capability

Secure and welded fast (o

nly adjustable with some models

)

Easily mailed or filed

Highest sheet capacity

Our m

ost durable binding

Upscale, professional 

look
Note: Documents using VeloBind do not photocopy easily. 
Since the >bind is permanent, this style is ideal for the purposes of security and long-term protection.
Usually the preferred choice for legal, business or high-end education assignments.
VeloBind is versatile for any sector.