To shred or not to shred…. is no longer the question. You know you need a shredder, but which one is right for you? Purchasing a shredder can be a daunting task, especially when you consider how many different options are available. How can you tell which one is right for you?
This dilemma is easy to resolve with 3 simple questions:
1) How many people will be using the shredder?  
This is the difference between building a highway and a dirt road – how high-traffic is your office? The number of people using your shredder on a daily basis determines the size of the shredder you'll need to buy. The size of the shredder is important because it defines how often you'll need to empty the shred bin. Run time is also important feature for a shredder as it defines how long the shredder can run before it needs to cool down. If only one person needs access to the shredder, then a small shredder with a shorter run time is perfect for your office. If 20 people need access to the shredder for the destruction of their 100-page reports before noon, then it's safe to say that you need the marathon runner of shredders, with a large bin capacity and minimal downtime.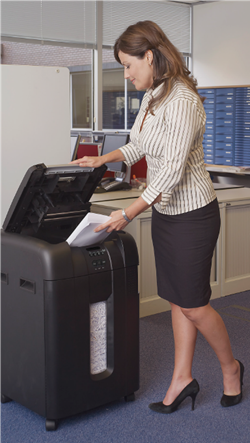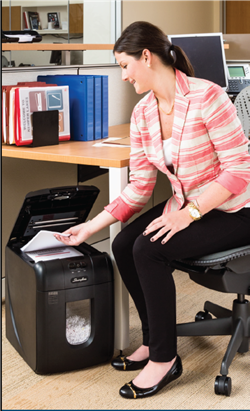 2) What Sheet and Waste Bin Capacity do you need?
After you've answered the first question, this one will be relatively easy, since the waste bin's capacity is directly related to the shredder's size. High capacity shredders generally have larger waste bins so they don't have to be emptied daily, even after heavy use.
The sheet capacity tells you how many sheets can be fed into the shredder at once. Sheet capacity is an important feature – it's the difference between getting pages shredded and getting back to your desk and needing to stake out a spot by the shredder for an overnight vigil. Unlike shredder size, sheet capacity doesn't correlate to the size of the shredder. Many small and medium-sized shredders have high sheet capacities. Some large shredders have small sheet capacities. This is where you stop to consider the volume of the documents you need to shred. Do you need to shred large volumes of paper on a consistent basis? Or will a shredder with a smaller sheet capacity do the job just fine? Picking a shredder with the right sheet capacity will cut down on wait time, increase productivity, and reduce your workplace headaches.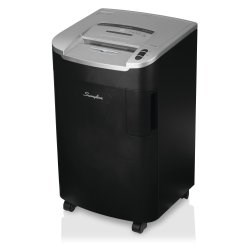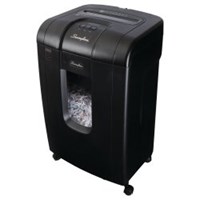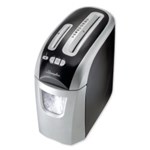 3) How much security does your workplace need?
Nowadays, security is a primary concern for most businesses. It's also a primary consideration when you're looking at shredders. The security level of a shredder determines how thoroughly the document is shredded. Higher security shredders cut documents into smaller pieces, making them harder to reassemble. The kinds of documents that you need to shred are a primary determinant of the kind of shredder you need to buy. Security is the last puzzle piece in your decision-making process, and it is easily the most important one. Take some time to look at different shredders with different security levels, before you decide which one is right for your business.
Shredder security is directly tied to cut style [link to cut style article] and ranges from a P-1 to a P-7. The minimum standard for shredding any type of document with confidential information on it, including bank statements and social security numbers, is a P-4 Super Cross-Cut shredder. Shredders that rate P-3 and below are a great choice for junk mail and anything else that doesn't contain sensitive information. If you're looking for a high security shredder, the P-5 Micro-Cut shredder is an excellent choice, especially for the most sensitive documents. Micro-Cut shredders are a common choice when security is the biggest concern. You'll see them at financial firms, law practices, government entities and even in private homes.
These three critical questions are all that stands between you and your brand-new shredder. After giving these questions some careful consideration, you're certain to pick the shredder that's right for you and your business. Happy shredding!