What is a Binding Inserter?
You've got all of your documents punched and ready to go….now what? Use a binding inserter to place a spine into your documents, completing the binding process. Binding inserters perform the duty they're named for – they insert a spine (coil, comb, wire, etc.) into your punched document, neatly binding the pages together. Inserters work hand-in-hand with binding punches.
Choosing an Inserter
Punch pattern is the most important distinction among binding punches because the punch pattern needs to correspond to the spine type in your selected binding inserter. Compatibility between the two machines allows your binding process to flow smoothly.
Binding inserters come in electric and manual varieties, ranging from machines that close with the press of a button to machines that require a bit more elbow grease. Sheet capacity and spine type are two of the primary concerns in selecting an inserter. Make sure you choose a spine type that fits your needs, and a machine that can handle the volume of projects you need for your business.
Color Coil Inserter
CombBind Inserters
WireBind Inserters
Strip Bind Inserters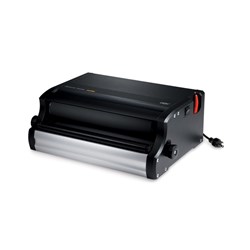 ColorCoil spines bring you the best of both worlds, combining style and function for a reliable binding. They give your documents a sleek, modern look, while maintaining readability – they lie flat for easy reading, and have 360-degree rotation for easy photocopying and note-taking. These strong spines also have excellent bounce-back capability – pack them up and ship them anywhere without fear of losing the quality of your presentation.
ColorCoil inserters are electric, providing speed and precision when inserting spines into pre-punched documents. Electric inserters are a must-have for high-volume projects and challenging binding jobs. For extremely large projects, an automated inserter might be the only tool up to the task. Volume is the most important consideration in selecting an inserter for these sturdy spines.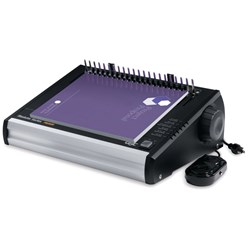 Classic CombBind spines are most traditionally associated with binding machines. These sleek, plastic spines are among the most versatile, and the most popular. They're great for almost anything: instruction manuals, course books, presentations, handbooks and more. Also frequently called Cerlox, comb spines are ideal for everyday use. They lay flat for easy note-taking and photocopying, and give everyday projects a professional image.
CombBind inserters are available in both manual and electric varieties. Manual closers are a great choice when value is the priority. They're an excellent choice for low-volume environments that require a steady binding option. Easy-to-operate electric inserters are ideal for surroundings that require higher volume use – perfect for large projects. Electric comb inserters offer the ultimate in convenience: simply load punched pages, and with the push of a single button, your documents are bound. Both electric and manual machines allow you the versatility to open bound documents for rearranging and editing.
A wide range of CombBind machines allows you to pick the one that's right for you. Hardworking all-in-one machines make it easy to punch and bind. They're a convenient choice for small offices. Whatever your binding needs, there's sure to be a CombBind machine to cover them.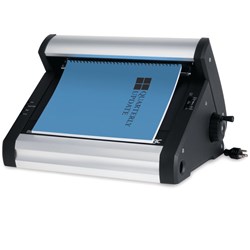 Select a strong, sleek and stylish presentation with sturdy WireBind spines. WireBind gives you an option that's functional and versatile, while also maintaining a professional image. They lay flat for easy reading and note-taking, and give you 360-rotation capability for easy photocopying.
Electric inserters work quickly and efficiently, allowing you to produce dozens of books in minutes. Many popular models can close a spine in mere seconds, offering the convenience of speed and efficiency for challenging projects. Manual WireBind units are a great option for lower volume environments, and work well when combined with lower capacity binding punches to create a complete binding system. Wire bindings can also be inserted using an automated finisher, which is an excellent option for high-volume use; ideal for commercial printing.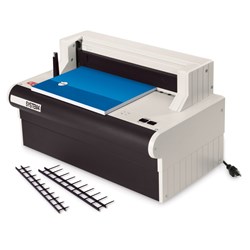 If you've got a daunting project, strip binding is up to the task. Strong, Strip Bind spines accommodate up to 750 sheets. Convenient bindings also lie flat for easy storage, filing and mailing.
Strip Bind finishers are serious business. Using hot knife technology, GBC Strip Bind finishers heat seal and permanently secure VeloBind and SureBind spines. Electric finishers use the power of electricity to heat and seal in the same way. Tamper-resistant and easy to ship, these strong spines provide a neat, permanent solution, with no editing or removal of documents possible after the fact. With a range of machines available, you're sure to find one that suits your business's needs.
Learn More