Keep Your Equipment Running Smoothly
Choose an Extended Maintenance Agreement (EMA) from the trusted GBC® Full Circle Service Team to help keep your binding and punching equipment running at peak performance. Our agreements include unlimited parts, travel and labor from trained technicians, plus priority phone response and service scheduling.
Take advantage of our limited-time prices for your business or school!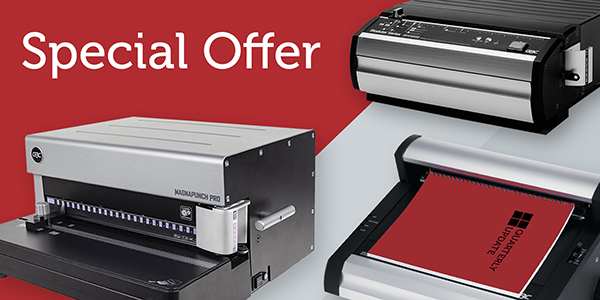 $549*
Select an EMA for any of these machines:
Magnapunch™ Pro (7705643), MP2500IX Punch (7704300),
Electric CombBind® Finisher PB2600 (7301000)
or Electric ColorCoil® Inserter 2700 (7301080)
Use PROMO CODE: EMA549

$699*
Select an EMA for any of these machines:
Magnapunch™ (7703200), Magnapunch™ 2.0 (7705628),
Electric WireBind™ Finisher TL2900 (7301200),
VeloBind® System 3 (9707102), or System 4 (9707027).
Use PROMO CODE: EMA699
Whether you need a new Equipment Maintenance Agreement or want to renew your existing one please fill out the request form. If you have a promo code be sure to include it below. A GBC EMA specialist will contact you within 48 hours.
6 Reasons to choose a GBC Equipment Maintenance Agreement


Equipment Maintenance Agreements (EMAs) from GBC's Full Circle Service Team keep your equipment running at peak performance, whether you're buying it now or it's been running strong for years. One price provides the benefit of extended service coverage that extends standard product warranty – even if the product isn't manufactured by GBC. Without protection, the cost to replace one key part could be more than the entire year of coverage.
Here's what's included with your Equipment Maintenance Agreement:
Unlimited parts
Unlimited travel to your location for repairs
Unlimited labor costs from an factory trained service representative
Priority phone response over non EMA service calls
Scheduling priority over non EMA service
Basic operator training*
We also offer different types of Equipment Maintenance Agreements to provide you with the best solution for your needs.
*Offer valid for new Extended Maintenance Agreements only (No active EMA contract prior to 90 days of promotional period). Not valid on prior EMA purchases. Offer ends on July 31, 2023 at 11:59 PM PT.