What is a Pouch Laminator?
Easily preserve precious photos, important business documents or a menu for the grand opening of your new restaurant with a pouch laminator. These compact, yet powerful machines create a long-lasting seal, which protects your documents from spills, rips and sticky fingers. Loaded with tons of user-friendly features, our pouch laminators will help you become a laminating pro.
Here's how it works:
Place your document inside a laminating pouch, which is sealed on one end. The loaded pouch is inserted into the laminator with the sealed edge first. The laminator uses a combination of heat and pressure to seal the pouch edges together, creating your completed document.
Choosing a Pouch Laminator:
Although they're small, pouch laminators will keep up with all of your projects and are used by a wide range of consumers. They are great for home users who want to protect their children's artwork, family recipe cards and homemade calendars. Offices, hospitals and print centers may use a pouch laminator for sell sheets, mission statements and references materials.
Consider your needs before choosing your laminator. Warm-up times can be as fast as 1-minute, allowing you to get started on projects right away. Some laminators only handle pouches with specific mil thickness, which determines the final rigidity of your completed document. With varying processing speeds and laminating widths, there are a lot of machines to choose from. Take a look at our options below to find the perfect laminator for your space and needs.
Home / DIY
Small / Home Office
Mid-Size Office
Large Office / Print Center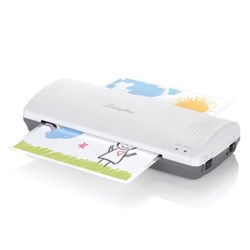 You'd be surprised how much you can laminate around the house. Whether used for arts and crafts or for protecting your childhood photos, the Inspire Plus series is the perfect fit for home users.
Available in both 9" and 12" laminating widths, these compact and stylish machines have plenty of user-friendly features, including jam release levers and auto shut off. Designed with simplicity in mind, they feature a single power lamination setting, which helps take the guess work out of laminating.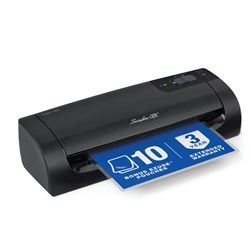 While you may not laminate every document in your office, it's nice to have the option when you need it. If you're an occasional laminator, the Fusion 1000 series is the best choice for you. These machines are designed for home or small office environments with a low volume of laminating jobs.
Laminate pouches up to 5 mil thick to create protected documents with limited flexibility. The machines have a jam release lever to quickly fix misfires and a cold-lamination setting if you want to use pressure-sensitive pouches. Even if you laminate only a few times a month, these easy-to-use and intuitive machines will let you pick up right where you left off.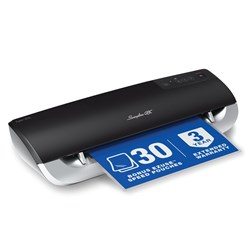 If your office laminates daily, you'll need a machine that keeps up with your busy schedule. Creating last-minute handouts or agendas for your presentation is not a problem for the Fusion 3000 series.
Designed with mid-sized offices in mind, these laminators are made for speed and durability. Laminate documents at speeds up to 31" per minute, which helps you stay on top of your hectic day. The Fusion 3000 series is compatible with laminating pouches up to 7 mil thick and has jam detection and manual reverse to quickly clear jams.
Large Office / Print Center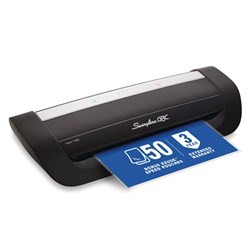 When your office has a high volume of daily laminating jobs, you need a machine that will keep up with the demands of your customers and clients. The Fusion 7000 and 6000 series are our top of the line pouch laminators and will help modernize the way your laminate.
These machines are lightning-fast. With laminating speeds up to 55" per minute, you can get more done in less time. Intuitive features, such as auto jam detection and reverse, and auto pouch thickness recognition up to 10 mil thick, combine to make this Fusion series the most productive and advanced pouch machines on the market today.
Learn More
Mar 9, 2022

What's the Best Temperature for Your Lamination Project?

How to load film into your GBC Pinnacle 27

Ditch the Pouch with Foton 30 Video